Dr Rachna Sareen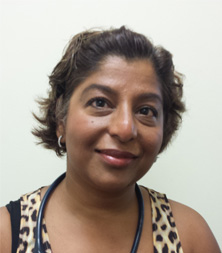 Dr Rachna Sareen attained her fellowship in General Practice in Wellington, NZ in 2011. Prior to that she had worked as a training registrar in Psychiatry for 5 year in NZ, where she learnt to manage various vagaries and idiosyncrasies of mind, and mental disorders in different age groups. Despite attaining a fellowship in General practice, Dr sareen keeps in touch with all the matters of mind by attending workshops, conferences and online university learning portals. She is registered with Medicare to provide Focused psychological strategies in the management of mental disorders.
Dr Sareen now provides additional skin care services in her cosmetic clinic- "Renew by Sareen". Dr Sareen has undertaken advanced training in aesthetic medicine under the aegis of renowned cosmetic physicians quality assured by Bond University.
Aging is a normal process influenced by both internal factors like genetics, and external factors like sun, pollution, and ongoing care of the skin. We can not change our genetics, but fortunately we have many tools at our disposal with which we can reduce the visible signs of aging and improve the appearance, texture and luminescence of our skin, with regular skin treatments and care. The products used are evidence based and practitioner use only such as Dermocosmetica and Biopelle.
ANTI WRINKLE INJECTIONS
Anti wrinkle injections create a softer youthful and fresher look by eliminating the dynamics lines in our face. This is achieved by using a purified protein molecule to relax the facial muscles.
Various uses of anti wrinkle injections are:
to relax unwanted facial lines-
forehead
Laugh lines around the eyes
Bunny Lines
Marionette
Dimpled overactive chin
Purse string lines around the lips
For slimming of face
For excessive sweating in the underarms.



DERMAL FILLERS Dermal filler is made from hyaluronic acid, a naturally occurring compound in our body which attracts and holds water and makes tissues appears plumper and softer as they were in younger age. The filler binds with our own body's intrinsic structures to give the overlying skin support and tensility and elasticity thus giving one luscious lips and fuller cheeks. Best results are obtained by taking into consideration what the client wants and what will look most natural.

MEDICAL GRADE CHEMICAL PEELS Our skin cells constantly multiply; this can lead to build up of dead skin called. Without exfoliation our skin tends to appear dull and becomes prone to developing open comedones(blackheads), closed comedones without and with inflammation, which can later on develop into large sized bumps and cystic acne. Chemical peels remove the build up of dead skin cells using a combination of Glycolic acid, lactic acid, salicylic acid. It is a method of chemical exfoliation rather than just manual exfoliation which is very superficial. To reduce pigmentation, the specific peel contains additional ingredients which are Phytic acid, Ferulic acid, Kojic acid, Retinol, Arbutin and it helps to rejuvenate dull skin, pigmentation, sun damage and smooth wrinkles to an extent. The best results are obtained by series of treatments after a short time period between each. To maintain the benefits, the use of recommended cosmeceuticals is recommended. Cosmeceuticals represent the marriage between cosmetics and pharmaceuticals. Cosmeceuticals contain high concentrations of bioactive ingredients such as AlphaHydroxyAcids,Retinoids and Vitamin C. Chiral and encapsulation technology enables deep penetration of these active ingredients. As a result,cosmeceuticals can produce structural and functional changes within the skin and are ideal for the treatment of skin conditions like acne, hyper-pigmentation, sun damage and ageing.
Renew by Dr Sareen
Aesthetic awareness and improvement can be traced back from ancient Egypt, Greece, Rome and India. Papyrus descriptions of use of acids, oils and balms and later the use of sour milk, grape juice and lemon extracts have been found in all the various civilizations. And like Cleopatra, women and of course now men too, have always striven to looks the best they can. Putting our best foot forward suddenly requires a lot more than just putting a foot forward!
These ancient civilizations paved a way in the aesthetic industry for the modern civilization. We know that the active ingredients in all the previously named substances were AHA (α-hydroxy acids), lactic acid, tartaric acid and citric acid. Today, we have available to use chemical peels containing these ingredients, apart from others, to continue on with our tradition of ongoing aesthetic improvement.
Extensive literature and studies have documented that use of AHA's has been shown to reverse histological signs of photoaging.
AHA's used regularly for 6 months showed a 25% increase in epidermal and papillary dermal thickness, improvement in elasticity of the skin and increase in the collagen density thereby reducing the fine lines, wrinkles in addition to reduction in the pigmentation.
Superficial chemical peels use wounding agents to exfoliate part of the skin layer which may in turn lead to stimulation of collagen formation.
The indications for superficial peeling are:
Melasma (pigmentation and sun spots).
Acne
Solar lentigines
Photoaging
Fine lines and wrinkles.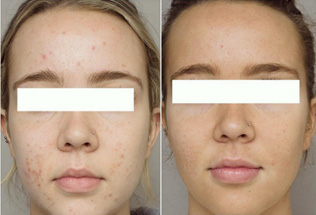 It is important to remember that pre preparation of the skin prior to the use of peels is essential for good results. It is also very important to ensure sun avoidance during this procedure to prevent post inflammatory hyperpigmentation.
The newly peeled skin appears mild to moderately red from few hours to few days.
Certain conditions like melasma and Acne vulgaris which can be recurrent and chronic may require periodic maintenance after the initial series for a long-term control.
Post peel redness can vary from case to case and options are available to reduce the amount of post peel inflammation. You will need to see your doctor for a review.
For an ongoing improvement after the acne peel, improvements can be sustained with the use of BiRetix products. It contains retin sphere technology that binds directly to retinoid receptors and is extremely well tolerated. The biopep-15 has strong anti-microbial activity which is effective against resistant strains. It normalizes sebum with reduction in comedones.
Click here to know about product
Optimizing outcomes after the Peels
The use of botulinum toxin A injections 7-10 days after the peel will enhance the results. The toxin denervates the underlying muscles of facial expression that produce dynamic wrinkles. The onset of action occurs 24-72 hours after the injection and lasts 3-6 months.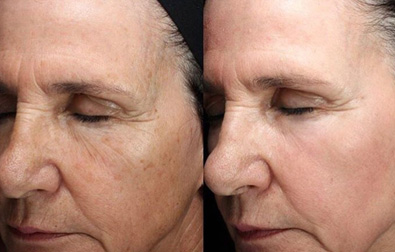 New collagen formation can then be laid down over a stationary area allowing the fabric of the skin to heal without reinforcing the creation of the wrinkles.

Botulinum Toxin Type A
Botulinum toxin (BT) is a neurotoxin produced by Clostridium botulinum, a gram-positive anaerobic bacterium. It blocks acetylcholine release after binding to the presynaptic cholinergic receptors, thus preventing muscular contraction of the affected muscles, thereby smoothing out the dynamic lines of age on the face.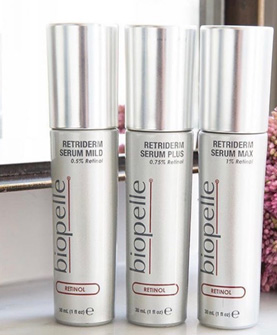 BT is used effectively in reducing fine lines and wrinkles on forehead ; around the outer side of eyes- laugh lines, bunny lines on the nose, dimpled chin and gummy smile, turkey neck, and excessive sweating in the underarms. It is also very effective in erasing the décolleté wrinkles.
It is worth remembering that once the dynamic lines have become static lines over time, that is, the lines are deeply ingrained, it is very difficult to erase them. Some people prefer to have hyaluronic acid fillers top erase the static lines. Logical, but often fraught with complications. So, the lesson here is to get in early, look after your skin as the youth does not last forever, but conscientious care will delay the signs of aging in anyone.
So, how to we do that???
There is lot to be said about exercise and good eating habits, avoiding smoking- both passive and active; getting enough rest etc.
But what do we do about the exposure to atmospheric pollutants like smoke, pollutions, UV rays etc??
Well, we start from the very basic fundamental care regimen: "Protect, prevent and repair"
Protect your skin from sun's harmful rays by using maximum SPF 50 or more. Prevent oxidative damage to your skin but using antioxidant day cream like C 25 cream or Ultra concentrated 30% Vit C serum (Tri Vita C30). These elements provide optimal antioxidant action and combats the signs of photoaging, evens out complexion and boosts skin radiance.
And there is always the nightly regimen of repairing any unchecked damage by using DNA repair enzymes. I like the "Prescribed solutions-DNA Cream-No Sugar".
It has highly active and selective ingredients which are a mouthful to say, (even for a doctor like myself)- Phtosomes, Roxisomes, Ultrasomes and proprietary blend of amino acids.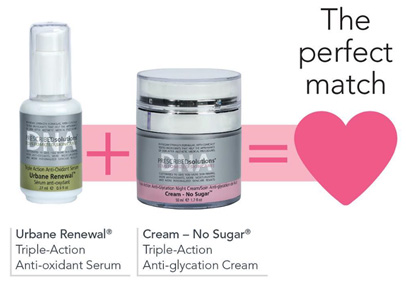 The three steps of DNA repair are-reversal of damage, excision of damage and protection against future damage.
But what about the loss of volume??? We have had peels, and are using the SPF 50, antioxidants and retinoids, why are my lips still looking more like a shrivelled prune than a luscious plum? What can be done then to augment the loss of soft tissue?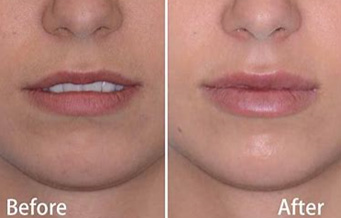 Thankfully, we have available the injectable Hyaluronic acid fillers to turn back the look. And this filler can either replete defects or augment existing facial structures.
Hyaluronic acid is a naturally occurring glycosaminoglycan biopolymer which is a component of all connective tissue.
The amount of hyaluronic acid in the skin gradually decreases with age and the loss results in reduced hydration and increased skin folding. The amount of filler is always individuated as the desired look needs to be harmonious with the rest of the face and look. I feel that one should look rejuvenated and refreshed but not overdone.
Disscuss what would work best for you with myself to work out a plan to address your needs.
STANDARD APPOINTMENTS ARE LESS THAN 15 MINUTES – the appointment allows discussion of 1-2 simple matters or review of ongoing concern only.
LONG/DOUBLE APPOINTMENTS – this allows up to 30minutes for all complex medical issues, forms, medicals, procedures, pap smears, and health assessments or when numerous issues need to be discussed.
PROLONG APPOINTMENTS – lasting at least 40 minutes for cases in relation to more complicated health issues.
A treatment room fee will apply for surgical procedures.
Payment is expected on the day of consultation and is payable by cash, Eftpos or credit card. Account keeping fee of $10 will be applied if not paid on the day.
Cancellations
If you are unable to keep an appointment, please notify the receptionist as soon as possible so that we can allocate the appointment time to another appointment. Failing to do so may result in a fee.
Test Results
Please make an appointment with your doctor to discuss test results. Please ensure your contact details are up to date: preferred contact: telephone number, mobile number, email address for recalls, reminders and general communication.
Repeat Prescriptions
Please check with the receptionist who will then verify this with your doctor. However, your doctor may wish to see you personally. Without a consultation a $20 fee will apply for collection.
Specialist Referrals
Please make an appointment to see your doctor for specialist referrals. Referrals to specialists will not be provided without prior consultation. Back dated referrals can not be provided.
Medical Certificates
To provide a certificate a doctor must see the patient for the condition on the day.